Appointment of Her Majesty's Ambassador to the Republic of South Sudan
Dr Alastair McPhail OBE has been appointed Her Majesty's Ambassador to the Republic of South Sudan.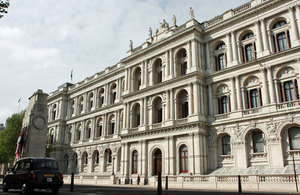 Dr McPhail has been serving as Her Majesty's Consul General in the capital Juba since March 2011 and will take up his appointment on 9 July 2011
Dr McPhail studied modern languages, particularly Russian, at the University of Otago and then completed a PhD in Russian at Edinburgh University. After teaching Russian at Nottingham University and then working in publishing, Dr McPhail joined the FCO in 1994. He has worked in a wide range of FCO positions, with a focus on political/military work, security, development and peace processes, especially in northern Iraq and Sudan. Most relevant to his current role was Dr McPhail's work on Sudan from 2000-2005, first as Head of the Egypt, Libya and Sudan Section in the Foreign and Commonwealth Office, then as Head of the Sudan Unit - the UK's interdepartmental team charged with supporting the Sudan peace process - and finally as the UK Special Representative for Sudan. Dr McPhail attended every round of the negotiations on the Comprehensive Peace Agreement from the first session at Machakos to the final session at Naivasha.
On his appointment as Her Majesty's Ambassador to the Republic of South Sudan, Dr McPhail said:
"I am delighted to have arrived in Juba to take up my post. This is an historic period for Southern Sudan and the United Kingdom is committed to supporting the peaceful and prosperous development of this new country. The upgrade of our mission to an Embassy is a key step in strengthening the relationship between our two nations. I look forward to the years ahead."
Curriculum vitae
Full name:
Dr Alastair McPhail OBE
Married to:
Jo McPhail
Children:
2 Sons, Angus and Callum
March 2011 - present
Juba, Consul General
April 2009 - Aug 2009
Bamako, UK Special Envoy to Mali and Head Crisis Managment Team
Jan 2006 - Mar 2009
Rome, Minister and Deputy Head of Mission
April 2005 - Dec 2005
Full-time Language Training (Italian)
July 2004 - April 2005
UK Special Representative for Sudan
April 2002 - July 2004
FCO, Head of Sudan Unit
Sept 2000 - April 2002
FCO, Head of Egypt, Libya and Sudan Section, Near East and North Africa Department
Nov 1996 - Aug 2000
Ankara, First Secretary (Political/Military)
Sept 1995 - Nov 1996
Full-time Language Training (Arabic)
Sept 1994 - Sept 1995
FCO, Nuclear Weapons Desk Officer, Security Policy Department
Published 9 July 2011