Appointment of Her Majesty's New Ambassador to Côte d'Ivoire
Mr Simon Tonge has been appointed Her Majesty's Ambassador to the Republic of Côte d'Ivoire.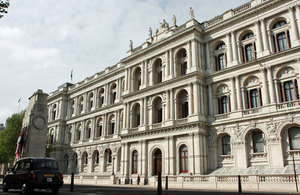 Mr Tonge will take up his appointment during in May 2012.
Mr Tonge joined the FCO in 1996 and has carried out a variety of roles most recently as Deputy Head of Mission in Azerbaijan.
On his appointment as Ambassador to Cote d'Ivoire, Mr Tonge has said "Being the first Ambassador to Cote d'Ivoire following the recent reopening of a British Embassy in Abidjan is an exciting prospect. I look forward to taking bilateral relations to a new level, including supporting the Cote d'Ivoire's peace process and expanding bilateral trade and investment. Cote d'Ivoire is a fascinating part of the world with huge potential, and I am thrilled to have the opportunity to get to know its people and culture."
Curriculum vitae
Full name: Simon David Tonge
Married to:
Hera Tonge (nee Lutsenko)
Nov 2008 - Dec 2012
Baku, Deputy Head of Mission
Oct 2004 - Dec 2008
Grand Cayman, Head of Governor's Office
May 2004 - Oct 2004
FCO, Head of Section, Press Office
May 2002 - May 2004
FCO, Regional Security Policy Adviser, South Asia Group
May 1998 - April 2002
Jakarta, Second Sec Political
Dec 2001 - Jan 2002
Kabul, Press Officer
July 1997 - May 1998
UK Mission to the United Nations (New York), Committee Support Officer (during UK Presidency of EU)
Sept 1996 - July 1997
FCO, Research Analyst for SE Asia
Aug 1991 - Sept 1996
Various sales and marketing roles with: BZW Barclays, Pacific Dunlop (Melbourne), Siemens/Marconi Telecoms and Leyland DAF/DAF International.
Published 20 April 2012