News story
Appointment of Christopher Armstrong as Chair of Cumbria Probation Trust
The Ministry of Justice and Cumbria Probation Trust (CPT) are pleased to announce the appointment of Christopher Armstrong as the new Chair to the Trust from 8 May 2013.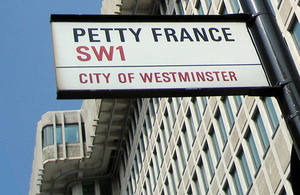 His term of office will run until 31 March 2014 with annual remuneration of £15,400.
Cumbria is one of the 35 probation trusts in England and Wales. It employs 193 operational and support staff. Operational offices are located in Carlisle, Penrith, Kendal, Barrow and West Cumbria.
Mr Armstrong is a retired solicitor. He has been Acting Chair of CPT since the election of the previous Chair, Richard Rhodes, as Cumbria's first Police and Crime Commissioner. As Clerk to the Justices in Cumbria, he worked closely with CPT, particularly in promoting closer liaison between probation staff and magistrates. He is a strong believer in partnership working and in the Cumbrian model for delivery of joined-up justice services.
Mr Armstong was a member of the Council of the Justices' Clerks' Society (JCS), chairman of its Sentencing Committee and, in 2008-09, its national President. During his time on the JCS Council, he was a member of the working group that drafted the Magistrates' Court Sentencing Guidelines, and of the national Sentencer/NOMS Consultation Group.
Since retirement, he has taken on the role of co-ordinator for 'Local Crime, Community Sentence', a project in which magistrates and probation staff visit community groups and colleges to explain how community sentences can be particularly effective in reducing offending.
Mr Armstrong does not hold any other Ministerial appointments. The appointment as Chair of Cumbria Probation Trust has been made in accordance with the Code of Practice for Ministerial Appointments to Public Bodies. All appointments are made on merit and political activity has played no part in the selection process. However, in accordance with the original Nolan recommendations, there is a requirement for appointees' political activity (if any declared) to be made public. Christopher Armstrong has declared that he is not involved in any political activity.
Published 20 June 2013