News story
Appointment of Anthony Keen as new member of Hertfordshire Probation Trust.
The Ministry of Justice and Hertfordshire Probation Trust are pleased to announce the appointment of Anthony Keen as a new member of the Hertfordshire Probation Trust Board from 1 August 2013.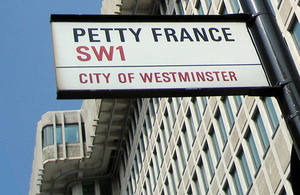 His term of office will run for a period up to 31 March 2014. The post is remunerated at the rate of £15.40 per hour.
Hertfordshire is one of thirty-five Probation Trusts in England and Wales, which deliver probation services on behalf of the Secretary of State for Justice.
Probation Trusts work closely with other criminal justice agencies, including the police and prisons, to protect the public, punish offenders, assist victims of crime and reduce re-offending by supporting the rehabilitation of offenders.
Anthony Keen lives in St Albans. He is a retired owner-manager of a large market research company, with 150 employees based throughout Britain and Ireland.
Anthony Keen does not currently hold any other Ministerial public appointments, although he has recently completed seven years as a lay advisor to the Multi-Agency Public Protection Arrangements in Hertfordshire.
The appointment as Member of Hertfordshire Probation Trust has been made in accordance with the Code of Practice for Ministerial Appointments to Public Bodies. All appointments are made on merit and political activity plays no part in the selection process. However, in accordance with the original Nolan recommendations, there is a requirement for appointees' political activity (if any declared) to be made public. Anthony Keen has not declared any political activity.
Published 1 August 2013