News story
Appointment of a Law Commissioner
Appointment of Nicholas Paines QC as a Law Commissioner and re-appointment of Mr David Hertzell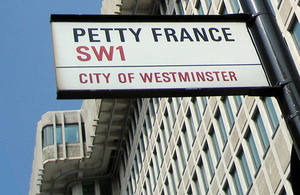 The Lord Chancellor and Secretary of State for Justice is pleased to announce the appointment of Mr Nicholas Paines QC as a Law Commissioner. Mr Paines has been appointed for a period of five years from 18 November 2013. He will be responsible for leading the Commission's work on public law.
Mr Paines sits as a Deputy High Court Judge in the Administrative Court, as a Deputy Judge of the Upper Tribunal (Administrative Appeals Chamber) and the First-tier Tribunal (Tax Chamber) and as a Recorder in the Crown Court. His professional practice at Monckton Chambers, Gray's Inn has focused on EU and public law. He is also a member of the Bar of Northern Ireland.
The Lord Chancellor and Secretary of State for Justice is also pleased to announce the re-appointment of Mr David Hertzell as a Commissioner. Mr Hertzell has been re-appointed for a period of one year from 1 January 2014. He will continue to be responsible for leading the Commission's work on commercial and common law projects.
Mr Hertzell began his legal career as a trainee solicitor with Davies Arnold Cooper in 1981 and was admitted as a solicitor in 1983. Davies Arnold Cooper made Mr Hertzell a partner in 1989. He became managing partner in 1992; a post he held until 1996 and again from 1999 to 2006. He was appointed as a Law Commissioner in 2007. Since then he has led a comprehensive programme on the reform of insurance law. He has also led projects on various aspects of consumer law, European law, intellectual property law and investment law. Mr Hertzell is the independent member on the JAC audit and risk committee, vice president of the British Insurance Law Association and chairman elect of the CII Professional Standards Board.
The Law Commission is the statutory independent body created by the Law Commissions Act 1965 to keep the law under review and to recommend reform where it is needed. The aim of the Commission is to ensure that the law is fair, modern, simple and as cost-effective as possible.
The appointments process has been conducted in accordance with the Commissioner for Public Appointments Code of Practice on Ministerial public appointments to public bodies.
The appointments were made on merit and political activity plays no part in the selection process. However, in accordance with the original Nolan recommendations, there is a requirement for appointees' political activity (if any is declared) to be made public. All have declared that they have not been involved in any political activity.
Published 7 November 2013