News story
Appointment of 3 members of the Family Justice Council
Appointment of Elizabeth Isaacs QC, Helen Morris and Sara McIlroy as new members of the Family Justice Council.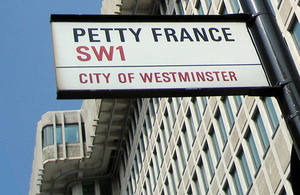 We are pleased to announce that Elizabeth Isaacs QC, Helen Morris and Sara McIlroy have been appointed by the Lord Chancellor, in consultation with the President of the Family Division, to be members of the Family Justice Council (FJC) for 3 years from 2 March 2015. These posts are unremunerated and subject to security clearance.
The appointments process has been conducted in accordance with the Commissioner for Public Appointments Code of Practice on Ministerial public appointments to public bodies.
The FJC was established in July 2004 to promote an inter-disciplinary approach to family justice as an advisory non-departmental public body. It is chaired by the President of the Family Division, Sir James Munby. The FJC encourages greater understanding and co-operation between the different agencies in the family justice system and its membership is multi-disciplinary.
Members include:
family solicitors and barristers
judges
academics
psychiatrists
local authority lawyers
mediators
social workers
Cafcass representatives
The FJC monitors the effectiveness of the family justice system through consultation and research and acts as 'critical friend' by providing advice to the national Family Justice Board and the government. It advises on the reforms necessary for continuous improvement and plays a key role in the modernisation of the family justice system.
Recent examples include:
carrying out a recommendation of the Law Commission to produce a guide for Litigants in Person (LiPs) on how the family court approaches financial issues following divorce
contributing to Advice Now's guide to applying for financial orders without a lawyer
The FJC is also responsible for hosting topical conferences and debates, the most recent of which focused on transparency in family proceedings.
Biographies
Elizabeth Isaacs QC, Senior Barrister member
Elizabeth Isaacs QC was called to the Bar in 1998 and took silk in 2013. She practises at St Ives Chambers in Birmingham and is a door tenant at 1 KBW and at Atlantic Chambers, Liverpool. Between 1989 and 1997 she was a child protection social worker practising in Birmingham and Warwickshire. She was appointed as a criminal recorder in 2009 and as a public and private law family recorder in 2012. She is a contributing editor of Clarke, Hall & Morrison on Children, a contributor to the Family Court Practice and has published a number of books on public law children work
Sara McIlroy, Parents and Families Representative
Sara McIlroy is a barrister practicing family law at 2-3 Hind Court Chambers in London (she was a founder member of chambers). She was called to the Bar in 2008. Ms McIlroy had a previous career as a PR professional working in finance and corporate media relations. She is a member of the Bar's Pro Bono Unit.
Helen Morris, Magistrate member
Helen Morris was appointed Chair of the Staffordshire Family Panel in April 2014 having been a member of the North Staffordshire Bench since 2002. She is a member of the Staffordshire Local Family Justice Board. She is a management consultant and previously had a career in local government which included stints as Deputy registrar of Births, Marriages and Deaths for Staffordshire County Council and as an elected member of Newcastle-under-Lyme Council. She is Chair of governors of Leighton Academy, Crewe and was clerk to the governors of Stoke-on-Trent 6th form college.
The appointments were made on merit and political activity plays no part in the selection process. However, in accordance with the original Nolan recommendations, there is a requirement for appointees' political activity (if any is declared) to be made public. All have declared that they have not been involved in any political activity. Helen Morris has been a Councillor for Madley Ward Newcastle-under-Lyme Council between May 2007 and May 2011.
Published 9 February 2015