News story
Appointment and reappointment to the Legal Services Board
The Lord Chancellor announces the appointment of an interim Chair and reappointment of 2 members of the Legal Services Board.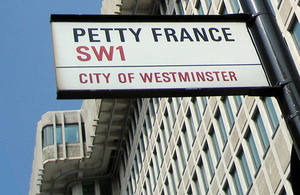 The Lord Chancellor in consultation with the Lord Chief Justice has announced the appointment of Dr Helen Phillips as the interim Chair and reappointment of David Eveleigh and Marina Gibbs as members of the Legal Services Board (LSB).
Dr Helen Phillips' appointment runs from 1 May until a new Chair is appointed and able to start. The reappointment of David Eveleigh and Marina Gibbs are from 1 April 2017 until 31 March 2020.
Dr Phillips was appointed to LSB on 9 March 2015 for 3 years. Appointed Interim Chair from 1 May 2017 she previously chaired LSB's Remuneration and Nomination Committee.
Helen is also the Chair of Chesterfield Royal Hospital NHS Foundation Trust, a member of the Sheffield Business School Advisory Board, and a Director of the Governing Body of Mount St Mary's College. Helen's earlier career was primarily as a regulator, and most recently as a board director of a regulated utility, Yorkshire Water, where she was responsible for networks and customer service, and Chair of Loop Customer Management Ltd, a Kelda Group subsidiary.
Prior to this she was Chief Executive and Board Member at Natural England and held a variety of roles in the Environment Agency.
Pursuant to paragraph 3.1 of the new Governance Code on Public Appointments, the Lord Chancellor sought the Commissioner for Public Appointment's approval to exempt from the Code of Practice the appointment of the interim Chair of LSB to cover a short interregnum.
The re-appointments to the LSB are regulated by the Commissioner for Public Appointments.
Published 21 April 2017