World news story
Applying for a UK Tier 4 Student visa
We aim to process student visas within 15 working days and recommend that you prepare and apply for your visa well in advance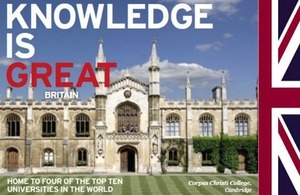 Preparation for a student visa application
You can ensure that you have the funds needed for your studies in your account
The bank account has to be in your name or your parents ONLY
You need to ensure that the funds required must have been in your account for a minimum of 28 days and your bank statement should not be older than 1 month at the date of application
How long will it take to get my visa?
We aim to process student visas within 15 working days. We recommend that you prepare and apply for your visa well in advance. You can make an application up to 3 months before you intend to travel.
Some countries offer a 3-5 day priority visa service for an additional fee. Check your visa application centre web-site for information on available priority services: www.gov.uk/finda-visa-application-centre.
How long can I stay in the UK?
Your Tier 4 visa will be granted for the whole length of your course. The maximum amount of time you can spend studying at degree level and above is 5 years with exceptions for some courses and PhD students. The time allowed does not include the time spent studying as a child student.
Can I work in the UK?
Whether you will be allowed to work, and if so how much work you will be allowed to do, will depend on the level of the course you are applying to study and the type of sponsor you have. Further information is on our website.
Can I stay and work in the UK after completing my course?
There are a number of options available if you wish to stay in the UK to work after your studies:
The Doctorate extension scheme for students successfully completing a PhD or other doctoral qualification at a higher education institution
Tier 2 (General) for those with a graduate-level job offer
Tier 1 (Graduate Entrepreneur) for those who want to develop a business idea
Tier 1 (Exceptional Talent) for world leaders in their field
Tier 5 for those undertaking professional training
Tier 5 (Internship)
Can I bring my partner and children with me?
Only the following students will be able to bring their partners and children to the UK:
Postgraduate students at higher education institutions on courses of 12 months or more
Government sponsored students on courses lasting longer than 6 months.
Can my parent accompany me while I study in the UK?
There is a visa route which allows a parent to accompany a child who is less than 12 years old and who is attending an independent fee paying day school.
Can my parent or relative visit me while I am studying in the UK?
Your parent or relative can come to visit you. We offer a six month multiple entry visit visa but they may also want to consider applying for a multiple entry visit visa for a longer duration. We offer visit visas that are valid for 2, 5 and 10 years.
Please always be honest when completing your application. False declarations and/or forged documents will lead to a refusal of your application and a 10 year ban. Always visit our website for the latest guidance: https://www.gov.uk/visas-immigration.
Published 21 July 2014