World news story
Apply for a UK Visa in Kyrgyzstan: 2015 dates
From 17 July 2014 residents of Kyrgyzstan are able to apply for a UK visa in Bishkek.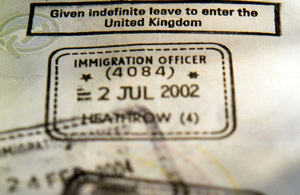 It is now possible to apply for a UK visa in Bishkek via the occasional visa application service operated by the UK Government's commercial partner Teleperformance Ltd. In 2015, the temporary enrolment centre will operate on a monthly basis from January – December 2015 and on a fortnightly basis between April and August. The provisional dates for 2015 are here TEL_Opening dates (PDF, 123KB, 1 page) .
The Temporary Enrolment Location (TEL) will be at the:
Hyatt Regency Bishkek
191 Abdrahmanov street
Bishkek

In order to use this service it is essential to book an online appointment no less than 24 hours in advance.
There is a charge of £59 to use the Visa Application Centre in Bishkek. This will be in addition to the visa fee and will be charged at the point of booking the online appointment and will cover the cost of providing the application submission facilities in Bishkek. Your appointment at this Visa Application Centre will not be honoured if this fee is not paid.
Once the UK visa application is submitted in Bishkek the completed application, which will include all supporting documentation and the customer's passport, will be forwarded to the Decision Making Centre in Istanbul by commercial courier, where they will be considered by Entry Clearance staff. Decisions and documents will then be returned direct to the customer by courier. Processing target times will remain unchanged and TEL staff will play no part in the decision making process.
Alternatively, visa applicants are still able to apply at the free to use Visa Application Centre in Almaty, which is open 5 days per week.
For further details on how to make an application please read the guidance at the following links:
The British Embassy in Bishkek is unable to advise on visa matters. Any callers seeking advice will be directed to the above-mentioned guidance.
Published 20 February 2015