World news story
Apply for a UK visa from Malé
A temporary enrolment location will be set up to accept UK visa applications in Male', Maldives on 28th August 2013.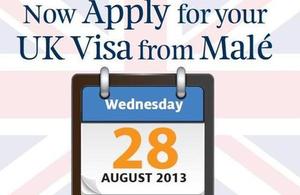 The British High Commission and UK Visas are pleased to announce that on Wednesday, 28 August, 2013, Maldivian applicants will be able to apply for their UK student visas and other eligible categories of visas from the ease and convenience of Malé. A temporary enrolment location will be set up to accept UK visa applications on this date and will be timed to support primarily those planning to study in the UK.
HE John Rankin, British High Commissioner to Sri Lanka and the Maldives said, 'I am delighted that this service is being made available to Maldivian students who have been accepted at universities in the UK as well as others applying for their UK visas. This will allow them to make their visa applications in Male' and I hope they will find this helpful as they look forward to visiting the UK.' Tom Greig, Regional Director South Asia for UK Visas and Immigration said, 'The UK is keen to attract the brightest and best talent from around the world. Our aim in setting up a temporary enrolment location in Malé is to bring the UK visa application point closer to our Maldivian customers, and make the process of applying for a UK visa as quick and convenient as possible.'
Detail
A temporary enrolment location is being set up on 28 August, 2013, at the Nasandhura Palace Hotel in Male' to enable Maldivian Nationals to lodge their UK visa applications. Those using the service, known as a mobile biometric clinic, will save themselves the cost and time of travelling to Colombo. The service is optional, and being run by our commercial partner, VFS Global, who have successfully managed similar services in India and elsewhere on behalf of UK Visas and Immigration. Applicants wishing to use the service must book an appointment in advance by calling +94 114 692 604 (08:00 hrs to 15:00 hrs – Maldives Standard Time). There will be a charge of £192 ($302) for this service, in addition to the usual visa fee. Appointment numbers are limited.
For more information, please visit www.vfs-uk-lk.com.
Published 8 August 2013