World news story
Apply early for visas with #BEATthepeak campaign
The UK encourages Indian visitors to apply early for visas with #BEATthepeak campaign.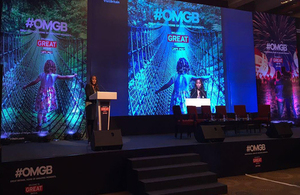 The UK has launched a new campaign to encourage Indian visitors to apply early for their visas in the quieter, off peak period, during January and February. Visa applicants can expect to get a visa decision more quickly outside of the peak period, and benefit from quieter Visa Application Centres and more available appointment slots.
In addition visit visa applicants can now get their visas post dated by up to three months. Applicants simply need to give us their planned travel date, request to have the visa post dated, and the visa will start the day before the date given.
The initiative was announced at the Destination Britain India event, currently being held in Pune and hosted by the UK's national tourism agency VisitBritain. The three-day tourism trade fair brings together more than 75 travel agents from across India and more than 20 UK travel suppliers for three days of networking and business appointments.
British High Commissioner to India, Dominic Asquith said:
We are delighted that more and more Indians are choosing to come to the UK either on holiday or for business. The latest visa statistics show that visitor visas issued have increased by 6% in the year ending September 2016 and last year we issued more Indian visit visas than ever before.

There has never been a better time to visit the UK - 2017 is the year of culture, which will see an exciting festival of events celebrating the vibrant cultural history of UK and India held in both countries. By making it easier for visitors to apply for their visas early, we hope that even more Indians will choose to come to visit the UK to see our world class heritage sites, enjoy our beautiful countryside and experience the vibrancy of our cities.
For more information on applying for a post dated visa go to VFS Global.India website.
For media queries, please contact:
Stuart Adam, Head,
Press and Communications
British High Commission, Chanakyapuri
New Delhi 110021
Tel: 44192100; Fax: 24192411

Follow us on Twitter, Facebook, Flickr, Storify, Eventbrite, Blogs, Foursquare, Youtube, Instagram, Vine, Snapchat @UKinIndia, Periscope @UKinIndia
Document information
Published: 12 January 2017