World news story
Applications for UK fintech companies to join trade mission to Australia now open
The UK Department for International Trade (DIT) will select up to 12 UK fintech companies to participate in a trade mission to Australia from 20 - 23 March 2017.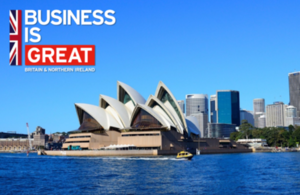 During visits to Sydney and Melbourne, the companies will be given the opportunity to meet with and pitch to Australian financial institutions and Venture Capital firms, visit fintech hubs, meet the Australian regulators and government ministers, network with the local fintech community, hear from UK companies that have found success in Australia, receive advice from specialist lawyers and schedule meetings with potential customers and partners.
They will also have the opportunity to extend their trip with an additional day in either Sydney or Melbourne or across the Tasman in Auckland or Wellington, New Zealand.
Director General UK Department for International Trade, Australia & New Zealand, Nick McInnes said:
We are very pleased to have the opportunity to bring a group of UK fintech companies to Australia for the first time and introduce them to the local market.

While fintech in Australia is still in relatively early stages, the industry is growing rapidly and there are many opportunities for UK companies to set up, collaborate and succeed.

The fintech market in Australia is forecast to grow to over AU $4 billion by 2020, of which AU $1 billion will be completely new added value to the Australian economy, so now is an ideal time for UK companies to enter the market.
The successful companies will visit Sydney's fintech hubs - including Stone and Chalk - and will have the opportunity to network with startups and key individuals from the local fintech ecosystem at meetups and in co-working spaces in both cities.
There will be sessions with specialist fintech lawyers and accountants and the opportunity to meet with the Australian regulators.
Companies from across the UK are encouraged to apply. Those interested in joining the mission should visit the website for further information and to apply: https://www.events.trade.gov.uk/fintech-mission-to-australia/. They can also contact australiafintechmission@mobile.trade.gov.uk for more information.
Applications close Sunday 11 December 2016.
Media Contact
Annie Galea
Head of Communications
UK Department for International Trade
British Consulate-General, Sydney
annie.galea@mobile.trade.gov.uk
+61 2 82472274
The UK's Department for International Trade (DIT) has overall responsibility for promoting UK trade across the world and attracting foreign investment to our economy. We are a specialised government body with responsibility for negotiating international trade policy, supporting business, as well as delivering an outward-looking trade diplomacy strategy. www.gov.uk/dit
Published 22 November 2016