World news story
Applications for the UK Government's prestigious Chevening Scholarships now open
The Chevening Secretariat is accepting applications for the 2015/2016 academic cycle from 1 August until 15 November, 2014.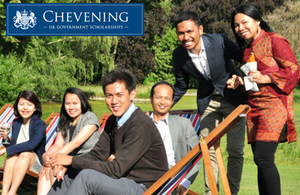 The Chevening Secretariat is accepting applications for the 2015/2016 academic cycle via www.chevening.org/apply from 1 August until 15 November, 2014.
Chevening Scholarships are awarded to talented individuals with leadership potential. The scholarships offer financial support to study for a Master's degree at one of the UK's leading universities, and the opportunity to become part of an influential global network of 43,000 alumni.
Scholarships tripled for Indonesian scholars in 2015/2016
This year, the scholarship programme in Indonesia will be tripled - reflecting a significant investment from the UK Government and a strong commitment to enhancing the people-to-people relationship with Indonesia.
Acting British Ambassador Rebecca Razavi said:
Chevening Scholarships offer an incredible opportunity for talented individuals to experience the best that the UK's world class education institutions have to offer. This year the UK government will be tripling the funding for Chevening which means that, together with our partner organisations, more future leaders from Indonesia and Timor-Leste will be enabled to build partnerships with the UK and to develop their capacities to help build a bright future for their countries.
Scholars are personally selected by the British Embassy in partnership with sponsoring organisations which this year include HSBC, Prudential and the University of Warwick.
Professor Nigel Thrift, Vice-Chancellor, University of Warwick said:
The University of Warwick is delighted to be the first UK University to partner with the Foreign and Commonwealth Office (FCO) on the Chevening Programme in Indonesia. The Chevening Programme makes awards to outstanding scholars with leadership potential, and having visited Indonesia recently, I have seen for myself that there is no shortage of talented candidates there.
Chevening Alumni in Indonesia and Timor-Leste
Chevening Alumni have an excellent record of rising to positions of leadership across a wide range of fields: including politics, business, media, civil society, religion, and academia. Former prominent Chevening Indonesian Alumni include Minister of Environment, Balthasar Kambuaya; Rizal Sukma, Executive Director at the Centre for Strategic and International Studies (CSIS). Alumni from Timor Leste include Minister of Education, Bendito Dos Santos Freitas; Minister of Commerce, Industry and Environment, Antonio da Conceicao.
Executive Director at the Centre for Strategic and International Studies, and Chevening alumni Rizal Sukma said:
Being a Chevening Scholar helped me a lot to expand my network in the UK and Europe. As you may know London is the base for many think tanks as well as many international activities in the research and think tank world.
How to apply
Applicants should read the online guidance and be able to demonstrate how they meet the Chevening selection criteria before submitting an application. Further details of closing dates and priority subject areas are available at www.chevening.org/apply
Notes to editors
About Chevening Scholarships
Chevening Scholarships are the UK government's global scholarship programme, funded by the Foreign and Commonwealth Office (FCO) and partner organisations.
The additional funding will bring over 1,000 more potential future leaders to study at UK universities. This means in the 2015/2016 academic year, the UK will have more than 1,500 Chevening Scholars in total.
The University of Warwick, HSBC and PT Prudential Life Assurance have announced that they will fund two 2015/2016 Chevening Scholarships for future leaders from Indonesia. The partnerships were agreed through the British Embassy in Jakarta, and will enable the chosen Indonesians scholar to study a one-year Master's degree in the UK.
Online applications for the Chevening Scholarships Programme 2015/2016 opened on Friday, 1 August 2014 and will close on Friday, 15 November 2014.
For more information visit www.chevening.org.
Published 7 August 2014