World news story
Applications for Chevening Scholarships in Bolivia are open
The Chevening Scholarships programme for postgraduate studies in the United Kingdom is accepting applications for the 2015/2016 cycle.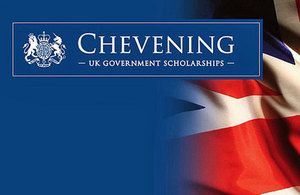 Chevening Scholarships are the UK government's global scholarships programme. It aims to bring future leaders, decision-makers, and opinion-formers to the United Kingdom for postgraduate studies of up to 12 months at a formative stage in their careers.
While encouraging Bolivian professionals to apply, British Ambassador to Bolivia Ross Denny said: "The Chevening programme is a great opportunity for future leaders in Bolivia to study at a British university, benefiting from a world-class education. It is also an opportunity to join a prestigious, influencial global network of leaders and policy makers around the world"
Online applications are open from 1 August and will close on Friday 15 November, so potential applicants have more than three months to prepare.
For information on the application process and requirements visit chevening.org/bolivia
Published 1 August 2014