World news story
Applications are open for Chevening/ANII Scholarships in Uruguay
Deadline for applying is November 8 2016.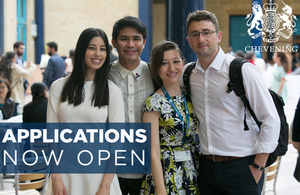 Chevening Scholarships are the UK government's global scholarship programme, funded by the Foreign and Commonwealth Office (FCO) and partner organisations, such as ANII here in Uruguay. The programme makes awards to outstanding scholars with leadership potential from around the world to study one year postgraduate courses at universities in the UK.
Chevening/ANII scholarships will be awarded to study a Master's degree in the United Kingdom in any area. The scholarships make awards to outstanding Uruguayan scholars with potential to rise to positions of leadership and influence. New applicants will need to demonstrate that they possess the personal, intellectual and interpersonal attributes reflecting this potential.
Each award will provide full payment of academic tuition fees, including examination and thesis costs, a monthly stipend for living expenses sufficient for a single student, an allowance package and a return airfare.
This year the British Embassy along with ANII will provide informative lectures at different universities in Montevideo and in the Expo Prado 2016 open to all public. The dates are:
Wednesday 17th August, 18:00 hours, Universidad de Montevideo
Thursday 18th August, 17:00 hours, Facultad de Ingeniería, Universidad de la República
Tuesday 23rd August, 18 hours, Universidad Católica del Uruguay
Wednesday 31nd August, 18:00 hours, ORT Pocitos, Universidad ORT Uruguay
Saturday 10th September, 14:00 hours, Facultad de Humanidades y Ciencias de la Educación, Universidad de la República
Saturday 17th September, 17:00 hours, Sala de Conferencias ARU, Expo Prado
Applications for the scholarships must be made on-line before 8th November 2016.
Further details are available on the Chevening website
This year, 29 professionals have been awarded with the scholarships to study courses in different disciplines. There are over 46,000 Chevening alumni from over 150 countries, who together comprise an influential and highly regarded global network. In Uruguay, there are over 100 Chevening alumni who are part of the Graduates from British Universities Association
Published 9 August 2016
Last updated 9 August 2016
+ show all updates
Added translation
Added translation