Press release
Appeal for information on River Axe pollution
Environment Agency officers who are investigating the pollution of the River Axe at Mosterton, Dorset, are appealing for any information regarding the source of the pollution.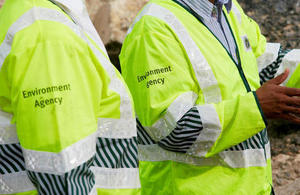 Environment Agency staff confirmed today that this stretch of the river is being polluted again by a small and hard to find oil leak.
Last year, the Environment Agency had officers trying to identify this mysterious leak on several occasions with officers lifting manhole covers, checking drainage points and domestic heating oil tanks.
However, they were unable to spot the source of the pollution. This was followed by a letter drop to approximately 40 properties, asking the residents to check their domestic heating oil systems and tanks.
Last month, the mysterious oil leak returned and the Agency believes it is coming from a small leak which has a constant drip or a tank leaks to a certain level. This oil then finds its way into the surface water drainage system that runs down the main A3066 from Bowes Lane.
The Environment Agency is now appealing for any information on where the pollutant might originate from and is urging people to come forward with any details on what may be responsible.
The Environment Agency will continue to monitor the situation and carry out further investigations.
Doug Parker for the Environment Agency said:
Because of the nature of the oil it is causing an odour nuisance down the length of the High Street as well as polluting the Axe. It is possible that this problem has returned because an heating oil tank has been recently refilled. We would ask that any residents on a heating oil system to closely monitor their usage and oil level over these warmer months for any unusual losses.
We urgently need to trace the source of the pollution as soon as possible to prevent any further risk to the environment.
Members of the public with any information on the incident can call the Environment Agency's 24 hour hotline on 0800 807060 or the Devon Enquiries Team on 01392 352400.
Ends
Published 6 August 2015