Press release
Appeal for information on illegally dumped waste in Bedfordshire
The Environment Agency is appealing for witnesses to a crime after approximately 3,000 cubic metres of waste was dumped in a warehouse.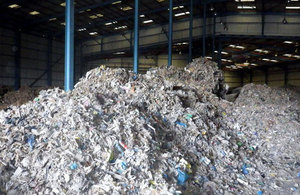 The amazing discovery was found by the Environment Agency's specialist waste crime officers after they were called to the warehouse in Dunstable, Bedfordshire.
Investigations have revealed that during the nights between Saturday 16 November and Wednesday 20 November last year, around 3,000 cubic metres of waste was dumped illegally inside the warehouse on the former Ecomold site on Luton Road, Dunstable.
The criminals gained access by cutting a lorry-sized hole in the side of the warehouse.
Tracy Nash, Environmental Crime Team Leader, said: "This is not a matter of small scale fly-tipping, this case appears to be intentional large scale avoidance of disposal costs.
"This callous act has endangered the environment and had a costly impact for the land owner. It is vital that we identify where the waste came from and who transferred it to the warehouse. If an innocent party has handed it to a contractor for disposal in good faith then they won't be in any trouble and may have critical information for us.
"The waste must have been taken to the site in several large vehicles, and with the hole having been cut in the side of the warehouse, we're hopeful that someone may have seen something suspicious, such as tipper lorries or plant machinery on the site in mid November."
The waste will shortly be removed at considerable expense to the landowner.
Anyone who has any information can contact the Environment Agency on 0800 807060 quoting CMS 16469 or if they wish to speak in confidence, to Crimestoppers on 0800 555 111.
Illegal waste sites are a growing problem nationally and the Environment Agency are committed to tackling this criminal activity. These waste sites are unlicensed, operate without any safeguards to the environment and undermine legitimate waste management companies who are undercut by illegal operators.
Those responsible for running illegal waste sites can be fined up to £50,000 in Magistrates' courts, face unlimited fines in higher courts, as well as community punishment orders or prison sentences of up to five years.
Illegal dumping costs taxpayers hundreds of thousands of pounds a year in clean up costs. The Environment Agency works in partnership with local authorities and the police to investigate these offences.
Further information about how the Environment Agency is cracking down on waste crime.
Images are available on Flickr
For media enquiries from the national and specialist media, call the national media team on 020 3263 8205 during office hours, or email us at pressoffice@environment-agency.gov.uk.
For urgent media enquiries out of hours call the duty press officer on 07798 882092.
Published 6 March 2014