News story
Appeal filter completes reform of extradition arrangements
A change in law which will stop people frustrating the extradition process by ensuring only genuine appeals are heard will come into effect next month.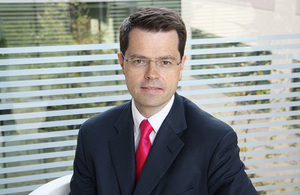 The appeals filter was introduced in the Anti-social Behaviour, Crime and Policing Act 2014 and will become operational in 21 days, after the Immigration and Security Minister signed the necessary amendments.
The filter will reduce the number of "unmeritorious appeals" highlighted by Sir Scott Baker's Review of extradition in 2011.
Once in force, appeals against extradition decisions will only go forward with the leave of the High Court, which is in line with the process used for judicial reviews.
Immigration and Security Minister James Brokenshire said:
It is in the overwhelming public interest that our extradition agreements function properly, are effective and efficient.

This government has reformed the UK's extradition arrangements to make them more open and transparent and to put in place robust safeguards to protect British subjects.

The appeals filter will provide increased efficiency in our extradition arrangements by reducing the burden of unmeritorious appeals while ensuring genuine appeals can be heard.
Commencement of the filter signifies the final part of this government's wide-ranging extradition reforms. The changes – introduced to protect UK citizens and better strike the balance between law enforcement action and civil liberties - include:
Introducing the forum bar to ensure the possibility of a domestic prosecution has been properly explored, allowing a court to bar an extradition where a substantial portion of the individual's conduct was undertaken in the UK;
Opting back-in to a reformed European Arrest Warrant. As part of this, we have legislated to prevent abuses like lengthy pre-trial detention and courts being able to block EAWs where the offence is disproportionately minor. A proportionality check undertaken by the National Crime Agency (NCA) also identifies and refuses to certify the most trivial requests when they are first received, before they come to court.
Currently, notice of appeal must be given within seven days of the extradition order being made in requests from other EU member states, and within fourteen days of the date on which the Secretary of State informs the person of the order in requests from non-EU member states.
Published 27 March 2015