World news story
Ape Action Africa rescues Cameroon's wildlife
Ape Action Africa Committed to protecting the great apes of Cameroon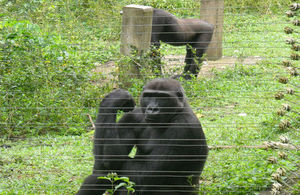 The British High Commissioner, Brian Olley, and the Director General of the Cameroon National Social Insurance Fund better known it its French acronym as CNPS, Alain Mekulu, visited the gorillas, chimpanzees and other primates in the Animal Sanctuary at Mefou on Saturday 5 October. The Director of the sanctuary, Rachel Hogan explained the vital role that the Sanctuary plays in helping Cameroon protect the animals.
The visitors saw many of the 40 gorillas, and hundreds of other primates at the sanctuary, during the tour of the many enclosures. The gorillas came out of the forest to greet the visitors and to sit within a few metres of them. The sanctuary is committed to great ape protection especially :
Ape…to provide sanctuary for individual, endangered primates orphaned by the illegal bushmeat and pet trades
Action…to actively rescue orphaned primates, providing rehabilitation and long term care in a protected environment. Africa…to work closely with the Cameroonian people to protect their natural heritage through education and social support.
The High Commissioner said 'This is vital work without which the gorillas and other primates could not survive. This sanctuary is key to helping Cameroon fight against the illegal poachers and ape meat trade which is putting the future of Cameroon's wildlife in peril.'
The Sanctuary needs CFA 18 Million (about £23 thousand) per month just to pay the 40 Cameroonian staff, food for the apes, repairs to the enclosures, and veterinary bills to keep the animals healthy.
Rachel Hogan said 'we work closely with schools and the Sanctuary is always open for children to come with their teachers to meet the animals and to learn more about conservation and protecting animals.' She added that she was very positive about the future and is looking forward to the new opportunities to increase awareness about the plight of great apes and to raise vital funds for longer term work in Cameroon.
Find out more at the Ape Action website
Published 7 October 2013