News story
Annual Review predicts job growth for Dounreay area
The Caithness and north Sutherland economy has made progress in its move away from reliance on Dounreay, according to an annual review published on Friday.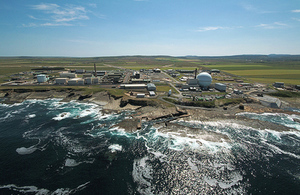 The Caithness & North Sutherland Regeneration Partnership's 2015 Annual Review outlines the progress made on a number of enabling projects, such as the NDA Nuclear Archive, tidal energy in the Pentland Firth, Developing the Young Workforce and North Highland College.
Since the CNSRP was formed in 2007, over 200 companies have committed to creating around 1,100 jobs in the economy.
The report predicts that a further 1,600 jobs could be created in the area over the next fifteen years.
Eann Sinclair, CNSRP programme Manager, said: "2015 was a challenging year for the businesses, with fluctuations in the price of oil having significant knock-on effects for local people and companies.
"Our focus as partners will be to prioritise the projects and investments that will give us the best possible chance to move the area economy away from dependence on Dounreay decommissioning to a diverse, stable, sustainable economic base."
The Annual Review is available to read on the CNSRP website.
Published 9 February 2016