World news story
Annual conference hosted by consular section
This was published under the 2010 to 2015 Conservative and Liberal Democrat coalition government
The consular section of the Embassy hosted its annual conference for Honorary Consuls and Consular Agents from around Ecuador.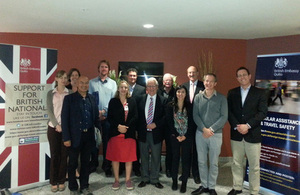 The conference was hosted at the end of February in Quito, inviting all members of our voluntary consular assistance network. Our Honorary Consuls in Guayaquil, Cuenca and Galapagos play a vital role in supporting the consular services offered by the Embassy, by being a first point of contact and providing consular assistance to a British national involved in an emergency. Our nine Consular Agents around Ecuador, who work on a completely voluntary basis, are also an important element of the network due to their good local knowledge and contacts, enabling them to provide factual information to the Embassy during major emergencies and crisis situations.
The conference covered a review of consular assistance policies, aligned with our Consular Strategy 2013-2016. Key topics included: an open discussion of common issues faced by British nationals; the recent change to a centralised call centre to handle consular enquiries; a brief review of travel trends and risk analysis for each district; an outline of our digital outreach via social networks, and our travel safety and responsible tourism preventative campaign, including the launch of new preventative videos on drug smuggling and transport security. Group activities and lively questions and answer sessions complemented the event. Finally, there was a brief presentation from UNASE (the Ecuadorean Police Anti-Kidnap and Extortion Unit) on useful personal safety and kidnap prevention tips.
The conference was very successful in updating and strengthening our country-wide consular network, keeping it prepared to respond to the needs of British nationals in Ecuador.