Anniversary of the Kindertransport
British Embassy's Deputy Head of Mission, Andrew Noble, spoke at event marking the 71st anniversary of the Kindertransport, the transportation of Jewish children to Britain immediately prior to WWII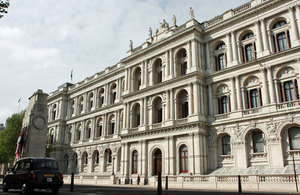 Frank Meisler's memorial statue at Berlin Friedrichstrasse
On 31 August, the British Embassy's Deputy Head of Mission, Andrew Noble, spoke at an event marking the 71st anniversary of the Kindertransport, the transportation of Jewish children from the European mainland to Britain immediately prior to the Second World War. The Kindertransport, or the Refugee Children's Movement, rescued approximately 10,000 children from Nazi persecution and helped find them homes in Britain.
The first Kindertransport arrived at Harwich, England on December 2, 1938, with a group of almost 200 children from a Berlin Jewish orphanage that had been destroyed by the Nazis on the night of November 9. The last group of children from Germany departed on 1 September 1939, the day the German army invaded Poland.
In his speech, Mr Noble paid tribute to the generosity of the people of Britain, who donated financial support or welcomed Jewish children into their families. He also praised the role played by the British government, which allowed for pragmatic, un-bureaucratic help. Finally, Mr Noble acknowledged the remarkable achievements of the children themselves.
The event took place at Berlin's Friedrichstrasse station, next to the memorial statue by the German-British-Israeli sculptor Frank Meisler. As a child, Meisler himself had departed Friedrichstrasse on a Kindertransport train bound for Britain. A further statue by Frank Meisler can be found at London's Liverpool Street Station, where many of the Kindertransport trains arrived in Britain.
The speech can be read here [PDF, 314KB, opens in a new window]
Published 3 September 2010