World news story
Reception for Angolan Chevening Scholars held in Luanda
Angolan Scholars with leadership qualities undertake postgraduate study in UK universities.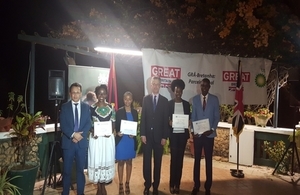 British Ambassador John Dennis spoke to Angolan Chevening Scholars at the British Embassy Luanda on 8 September. In his speech he stated that Chevening is the UK government's international scholarship scheme, which enables students with leadership qualities from 144 countries to undertake postgraduate study or courses in UK universities. The scholarship is funded by the Foreign and Commonwealth Office, together with partner organisations, including private sector companies such as BP. We are very grateful for the additional support of 300,000US$ that BP Angola have given to the Programme until 2018 to help promote further development in Angola, particularly in the field of Health. Therefore in addition to our regular awards, we are for the first time also sending students under our joint Chevening/BP scholarship Programme. The terms of the awards are the same. But BP's generous involvement has increased the number of able Angolans who it has been possible to recognise in this way.
Chevening offers a unique opportunity for future leaders to develop professionally and academically, and to benefit from a strong alumni network. It is an important element in Britain's public diplomacy effort and helps to bring professionals, who have already displayed outstanding leadership talents, to study in the UK. The scheme benefits individuals. It also creates lasting relationships between the UK and future leaders, influencers, and decision-makers around the world.
Over the last two years the number of available Chevening scholarships has tripled globally. We are proud of that- and in particular that it has been possible to make such an increased investment in the future during a period of budgetary austerity. We have invested in Chevening because we believe in the future.
In Angola, we have witnessed a significant increase in the number of awards. There are no fixed national allocations, so the increase in numbers reflects a rise in quality. We are confident there is scope for even more scholarships for Angolans and Sao Tomeans to study in the United Kingdom on Master's Degree Programmes for 2017/2018. So please help us to keep spreading the word!
We are pleased to award and bid farewell to 4 future leaders from Angola who will soon form part of this influential and highly regarded network. We say Parabéns (Congratulations) to our new scholars, recognising that they beat very stiff competition to secure a Chevening scholarship. We hope that upon their return, they would rise to positions of leadership across different influential sectors in Angola and always remain in touch with us. We wish you good luck, happy travels and much success in your studies. And we apologise in advance for the weather!
Finally, I'm pleased to tell you that applications for the 2017/18 academic year are now open – we are calling on future potential leaders and young professionals to consider applying. The priority subject areas are the rule of law, human rights, Democracy and Good Governance, Economics and Financial management, health, Environment and Energy and Public Administration and social development. So, once again, please help us to spread the word.
Published 9 September 2016