World news story
Angola: Pre-entry Tuberculosis screening
Pre-entry Tuberculosis screening for all individuals applying in Angola for Long-term UK Visas from 31 December 2013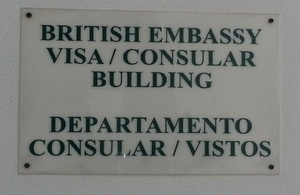 From 31 December 2013, residents of Angola and São Tomé and Principe, and any non-residents applying in Angola, who wish to come to the UK for more than 6 months must be tested for tuberculosis (TB) before applying for a visa.
If you submit an application in Angola on or after 31 December 2013, you will need to take a TB test if you are applying to come to the UK for 6 months or longer. If you apply for a visa before this date you will not need to take a TB test.
If you plan to come to the UK for less than 6 months you do not need a TB test, unless you are applying for a 6 month fiancé (e) visa.
This follows the UK Government's announcement in May 2012 that it would be extending the TB screening requirement to an additional 67 countries, including Angola, based on the figures for high TB incidence provided by the World Health Organisation.
This brings the UK into line with the practice of a number of other countries including the US, Canada, Australia and New Zealand.
Further details can be found in the news article published on the Home Office's UK visa website for Angola.
Pre-entry TB screening is not required for those going to the UK as a tourist or other type of visitor, except for those applying for a fiancé(e) visa. It will be required for all individuals in Angola who are applying for a UK visa which is longer than 6 months including those applying for a Tier 4 student visa.
The process will require individuals to be screened and obtain a certificate from an approved International Organization for Migration (IOM) Health Centre in Angola to show that they are free of TB before they make a UK visa application. They will need to include the TB certificate with their visa application.
The requirement for pre-entry TB screening will begin from 31 December 2013.
Applicants who require pre-entry TB screening should contact:
IOM Luanda United Nations Building 197 Major Kanhangulo Ingombota Luanda Angola
Telephone: +244 226 430 870/880 (ext 4705) +244 923872799 +244 925631718
A 120 US Dollar fee is payable to the IOM directly for the cost of the tuberculosis test. The cost of the test is in addition to the visa application fee.
Published 30 December 2013