World news story
Angola - Minister for Africa pays third visit to Angola
FCO Minister for Africa Mark Simmonds returns to Angola to build bilateral partnership; introduces UK-Angola Trade Envoy David Heath.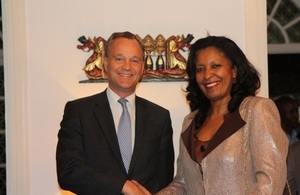 The British Minister for Africa, Mr Mark Simmonds paid a very successful visit to Angola on 24 and 25 June. During his visit he met a number of key Angolan Interlocutors including the Angolan Ministers for: Construction; Energy and Water; Higher Education; and Territorial Administration. He also had productive meetings with the Secretary of State for International Cooperation and the Secretary of State for Geology and Mines, as well as the Governor of the National Bank of Angola.
The purpose of Mr Simmonds' trip was to follow up progress on the High Level Prosperity Partnership (HLPP) which he launched in Luanda during his last visit a year ago. It focussed on the further development and deepening of bilateral relations between the UK and Angola and identifying further opportunities to support Angola's objective of economic diversification.
In his meeting with State Secretary for International Co-operation, Angela Braganca, the Ministers focussed on key international and regional issues, as well as the framework both countries would create to take forward the HLPP. The visit followed a number of key UK-hosted international events this year in which Angola has participated, including: the Conference on Illegal Wildlife Trade in February at which Angola was represented by State Secretary, Manuel Augusto; the conference on Preventing Sexual Violence in Conflict hosted by Foreign Secretary William Hague and UN Special Envoy Angelina Jolie, at which State Secretary Angela Braganca spoke about Angola's experience of conflict; and the Mining conference held in London in June with the participation of Minister of Geology and Mines, Manuel Francisco Queiroz.
The Minister also attended the annual reception to celebrate the Queen's Birthday hosted by The British Ambassador, John Dennis, at his residence in Luanda. Speeches were delivered by the British Ambassador, the Minister for Africa, and the Secretary of State for International Cooperation, Angela Braganca. Pipe Major Finlay MacGhee entertained a large audience of key individuals from the British, Angolan, and international community with an impressive display on the bagpipes.
The reception provided an opportunity for the Minister to introduce the Prime Minister's new Special Trade Envoy for Angola, David Heath as well as visiting representatives of UK businesses in London and the South East who were conducting a Trade Mission in Angola. The Prime Minister has appointed David Heath with a view to fostering closer commercial ties between Angola and the UK, identifying new business opportunities, and tackling barriers to trade.
Published 21 July 2014