Press release
Anglers urged to help protect Norfolk Broads pike stock
Anglers are reminded to remain by their rods at all times to prevent pike deaths when fishing as winter enforcement patrols start.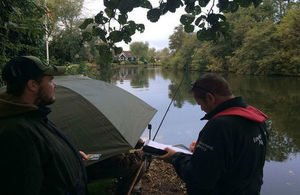 Despite the fearsome reputation of pike and their set of razor sharp teeth, they are surprisingly delicate. The Environment Agency and Pike Anglers Club of Great Britain (PAC) today urge anglers who catch one to treat it with the utmost care to ensure that when it is returned to the water, it can continue to thrive.
Work carried out by Environment Agency fisheries experts, together with the angling community, has identified that pike care, welfare and good fishing practices are vital to protect and increase numbers in the Norfolk and Suffolk Broads, which are world-renowned for excellent pike fishing.
With the popularity of pike fishing rising, the influx of more pike anglers to the Broads brings a boost to the local economy in the winter season. However, both experienced and inexperienced anglers can unwittingly cause problems for pike stocks and the wider environment.
Steve Lane, Fisheries Technical Specialist at the Environment Agency, said:
Broadland pike fishing is incredibly important to many anglers and is a significant asset for the local economy. We are working in partnership with the pike angling community to assess stocks and take measures to protect and improve pike angling. Pike are fragile and anglers need to fish for and treat pike with the utmost care and respect now to ensure they can grow on to become the 20 and 30 pound fish we all hope to catch tomorrow.
One way anglers can help protect pike stocks is to adhere to the byelaw to never leave baited rods unattended.
John Currie, General Secretary of the Pike Anglers Club of Great Britain (PAC) and Chairman of the BASG Pike SubGroup said:
If a pike takes a bait and the angler does not react quickly enough, or a boat cuts through the lines, this can result in deep hooked fish which will often die. PAC therefore welcomes the efforts of our local EA fisheries officers to enforce the relevant fisheries byelaws, educate anglers and protect pike fishing.
We can all help to protect pike stocks by fishing with care, using appropriate bite indication and safe rigs. Landing nets, padded unhooking mats and tools are all essential to ensure the safe return of the fish we are privileged to catch.
Apart from fishing, pike in the Broads can face many natural pressures, such as salt water travelling too far up rivers during stormy weather, toxic algal blooms and predators.
To help protect pike stocks, Environment Agency Fisheries Enforcement Officers are playing an important role this winter, looking out for unattended rods and other poor practice, which is often illegal.
Enforcement Team Leader Lesley Robertson said:
Our fisheries enforcement officers will be clamping down hard on unacceptable angling practices such as leaving baited rods unattended. We will not hesitate to take enforcement action where anglers are found to be flouting the rules and putting fish stocks at risk.
Anyone seeing illegal angling activity should report it to the Environment Agency Hotline number 0800 807060.
Anglers new to fishing pike in the Broads can contact the Pike Anglers Club of Great Britain for further information and tuition www.pacgb.co.uk.
Anglers can also find more pike fishing guidance and an informative free video on Broads Pike fishing on the Broads Angling Strategy Group website www.basgonline.org.
Published 27 October 2016