Press release
Angelina Jolie Pitt joins Baroness Anelay to chart next steps on tackling sexual violence
Baroness Anelay, Angelina Jolie Pitt & Madame Zuma discuss next steps to challenge impunity for sexual violence in conflict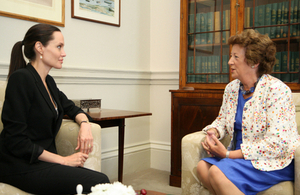 Baroness Anelay, the Prime Minister's Special Representative on Preventing Sexual Violence in Conflict (PSVI), held talks with the Special Envoy of the UN High Commissioner for Refugees, Angelina Jolie Pitt, and the African Union Chairperson, Madame Nkosazana Dlamini-Zuma.
Baroness Anelay and Special Envoy Jolie Pitt agreed the importance of intensifying PSVI work in conflict areas in Iraq and Syria, where UK troops have so far trained 700 peshmerga fighters in preventing and responding to sexual violence.
Together with Madame Zuma, they agreed to do more to challenge attitudes to sexual violence, support victims and empower women in conflict-affected areas, building in particular on the leading work of the African Union. Baroness Anelay announced £700,000 of new funding to support the African Union's Gender, Peace and Security programme. The programme includes training to AU peacekeepers in the prevention of and response to sexual violence and promotes the increased participation of women in peace building and conflict resolution across the continent.
Following the meeting Baroness Anelay said:
I am pleased to work alongside the Special Envoy and Madame Zuma to fight the scourge of sexual violence in conflict. Since the Global Summit last year we have achieved much; but there is more to do. The UK has set out its priorities for the next stage of our work, and reaffirmed its leadership in ending this appalling crime once and for all.
Special Envoy of the UN High Commission for Refugees Angelina Jolie Pitt said:
I am delighted that Baroness Anelay has been appointed the Prime Minister's Special Representative on Preventing Sexual Violence in Conflict and that the UK government continues to lead on this initiative. I am looking forward to working with the UK government and international partners like the African Union to prioritise this issue and change laws, attitudes and support for survivors around the world.
Notes to Editors
Since the Global Summit to End Sexual Violence in Conflict, the UK has provided training in prevention and response to sexual violence to 100 AU and UN peacekeepers and 700 Kurdish peshmerga. The UK Team of PSVI Experts has been deployed worldwide, including to the Syrian border, Bosnia and Herzegovina, Kosovo and the DRC. Over £20 million of funding has been allocated to PSVI-related work, such as supporting grassroots and human rights organisations, the work of the AU and UN and the International Criminal Court's Trust Fund for Victims.
So far in 2015 over £6 million of funding has been announced for PSVI-related programmes. This funding includes support to women's peacekeeping teams in South Sudan, training Syrian media activists in the use of radio to empower women and engage men in overturning social norms around the reporting of sexual violence, and provision of comprehensive support to survivors of sexual violence in Bosnia, alongside integration of the International Protocol in local Bosnian institutions, such as criminal courts.
Further information
Published 29 June 2015