World news story
Angelina Jolie encourages young people&women to check voter lists
Angelina Jolie Pitt visited voter education project and urged women and young people to check voter list ahead of Burma elections.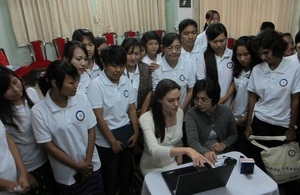 Co-Founder of the Preventing Sexual Violence Initiative (PSVI) Ms. Angelina Jolie Pitt met participants in the 'She Leads' voter education programme as part of her visit to Rangoon today. She saw firsthand the process for checking the voters list online and talked to participants about the importance of the work they are doing to encourage their communities to check their names.
Ms Jolie Pitt said:
The elections in November are an extremely important moment for this country. Today I met inspiring young women preparing to vote for the first time, who have educated themselves about the process and come together to share that knowledge with others at this critical time. I encourage everyone to follow their example. I urge everyone, women and young people in particular, to check the voter list on behalf of your parents and families. If you can't get home to check the lists, I learnt today how you can check online at https://checkvoterlist.uecmyanmar.org/
The British Ambassador said:
I am pleased the UK government, through DFID, is able to provide support to voter education activities like the "She Leads" programme. It is important for women to participate in democratic processes. I encourage everyone to check they are on the Voter List and their details are correct so they can vote on 8th November.
Background on "She Leads" Programme:
The 'She Leads' women's leadership training programme, implemented by Yaung Chi Thit, with the support of the International Foundation for Election Systems (IFES), has been designed to help address the lack of women's leadership in political and decision-making processes at all levels.
The programme aims to build a pool of women with an understanding of the democratic and electoral processes in the country, and provide them with a set of leadership skills that will give them the confidence to take on progressive leadership roles within their communities and organisations, as well as serving as role models for other women.
Published 31 July 2015