News story
Andrew Rhodes appointed Director General, DWP Operations
Andrew Rhodes has been appointed Director General of DWP Operations.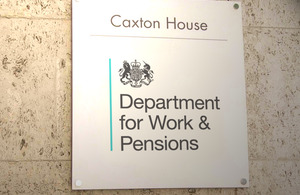 Sir Robert Devereux, the Permanent Secretary at the Department for Work and Pensions, announced the appointment on 23 March 2016, of Andrew Rhodes as Director General, DWP Operations.
I am delighted to announce the appointment of Andrew Rhodes. He is an extremely talented public servant, with a wealth of experience leading operations across government.
Andrew Rhodes said:
It's an honour and privilege to take on the role of Director General, DWP Operations.

The dedication and hard work of colleagues across DWP is something I've always been impressed with. I look forward to working with them as we continue to deliver great service to the millions of people across Great Britain.
The Director General, DWP Operations leads a workforce of some 65,000 DWP civil servants, operating from around 900 sites across Great Britain including: jobcentres, contact centres, benefit centres, pension centres as well as co-locations within local authorities and other organisations.
In 2015-16, DWP Operations made payments totalling more than £170 billion.
Published 30 March 2016