Andrew Mitchell walks for clean water
Secretary of State for International Development, Andrew Mitchell, walked for water at Westminster today, as part of a global campaign to raise awareness for the world water and sanitation crisis.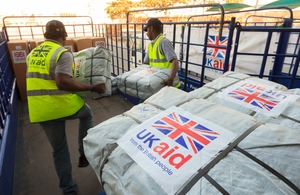 Marking the United Nations World Water Day, Andrew Mitchell joined hundreds of thousands of people across the globe who walked in solidarity with the almost 900 million people worldwide who still have no access to safe drinking water, and the 2.6 billion people without a toilet. The event, called World Walks for Water, was organised by global campaign group End Water Poverty.
International development organisations WaterAid and Tearfund hosted today's event in London which saw Andrew Mitchell and many other MPs get a taste for the daily reality for millions of people by carrying water containers on a short walk near the Houses of Parliament.
Andrew Mitchell, Secretary of State for International Development said:
"It is a terrible tragedy that millions of people, mainly women and girls, have to walk for miles every day to find water which is often not safe enough to drink. This causes many to die needlessly from waterborne diseases.
"That is why the British Government has promised to give millions of the poorest people access to clean drinking water, safe sanitation and better hygiene practices to stop people getting sick."
WaterAid video of Andrew Mitchell attending the event:
Published 22 March 2011