Andrew Mitchell delivers first overseas speech in Washington
Secretary of State Andrew Mitchell's first overseas speech given at Carnegie Endowment, Washington DC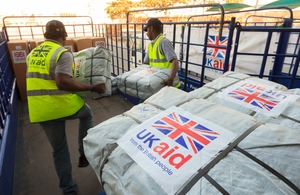 As world leaders gathered for the G8 Summit, he argued that, over the next five years, we have the means and the opportunity to put an end to some of the most serious problems facing the world today.  But he said that "the only way we will do so is by putting women front and centre of all our efforts."
Speaking about maternal health he said:
When a jumbo jet crashes anywhere in the world it makes the headlines. If it were to crash week in week out in the same place there's not a person alive who wouldn't be talking about it. The international community would set up an enquiry and no money would be spared in making sure it never happened again. Yet, in Nigeria, the equivalent number of women die each and every week from pregnancy-related causes - and the world stands mute.

In Britain, we want to make a serious contribution to tackling this tragedy. Today, at the G8, our Prime Minister, David Cameron, is working with PM Harper and other G8 leaders to ensure the world delivers on its commitments to cut the number of women and children dying during pregnancy and childbirth in some of the world's poorest countries.
He finished the speech by looking ahead to the UN Millennium Development Goals Summit:
The playwright, George Bernard Shaw once said that the essence of inhumanity wasn't hate, it was indifference. He was right: indifference kills. September's MDG Summit represents a golden opportunity for us to demonstrate that we are not indifferent, that we will recommit to the promises that we made ten years ago to the world's poor.

We must call on the world's political leaders to come to the Summit ready to make and deliver ambitious pledges. We must urge them to fulfil their aid commitments and to sign up to the Secretary-General's Action Plan on women and children's health. We must grasp this single moment that history offers us, a moment when, together, we can make a stand. If we are prepared to do that then we truly can leave this world a better place for generations to come.
Published 26 June 2010