Andrew Mitchell appointed Secretary of State
Andrew Mitchell MP has been appointed as Secretary of State for International Development.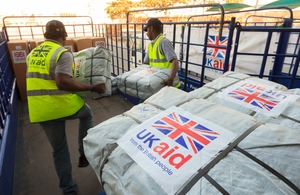 The Secretary of State said:
"I'm delighted to be appointed to spearhead the new government's campaign to tackle global poverty.
"Tackling deprivation around the world is a moral imperative and firmly in Britain's national interest. I'm proud of the commitments that our new government has made on international development. Our bargain with taxpayers is this: in return for contributing your hard-earned money to helping the world's poorest people, it is our duty to spend every penny of aid effectively. My top priority will be to secure maximum value for money in aid through greater transparency, rigorous independent evaluation and an unremitting focus on results.
"Promoting wealth creation and development around the world is about so much more than just giving aid. We will harness the full range of British government policies - including trade, conflict resolution and environmental protection - to contribute to our progressive vision of a more prosperous, sustainable and secure world.
"We must make 2010 the year when we get the Millennium Development Goals back on-track and make real progress towards what we all want to see: a world free from poverty. I look forward to getting to work to help make that happen."
Published 12 May 2010