Anaerobic Digestion framework document published
An anaerobic digestion framework document was today published by the Government.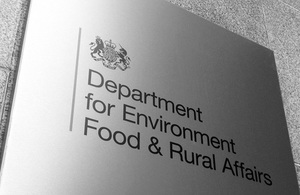 The anaerobic digestion framework document sets out the steps it believes are needed to increase energy from waste in England through anaerobic digestion (AD).  This document is an invitation to work with Government on the strategy and the deadline for expressing interest in participating is 12 December 2010.
AD has the potential to meet several major challenges by reducing greenhouse gases from manure and waste management, and producing renewable energy without causing significant adverse land-use change, as well as diverting waste from landfill.
The document is part of Defra's Structural Reform Priority 3.1.V to 'Set out steps to promote increased energy from waste through anaerobic digestion', to be completed by end of November and this will then lead us to develop our priority 3.1.vi of the Structural Reform Plan; to publish a detailed strategy to encourage anaerobic digestion measures.
Environment Minister Lord Henley said:
"While we are working hard to reduce food waste in the first place, we want to encourage anaerobic digestion as a way of recovering energy from waste rather than sending biodegradable waste to landfill."
"This Government is committed to working with trade bodies, local authorities, communities and other interested parties in developing our framework for the development of anaerobic digestion, drawing on the widest possible range of expertise. This document is a starting point to find out the best possible way we can produce energy from waste through anaerobic digestion."
Climate Change Minister Greg Barker said;
"We need to be far more ambitious in getting energy from waste. Today's document signals the start of a collective approach between industry and government to increase the amount of anaerobic digestion over the next few years. This is a key part of the Coalition's vision of a much greater role for local energy and puts power back in the hands of communities.
"Anaerobic digestion cuts carbon emissions, helps ensure energy security, creates green jobs and reduces biodegradable waste going to landfill."
The AD framework proposes setting up a steering group to oversee the work and  forming three working groups to look at the following areas; knowledge and understanding, smarter working models and regulation and finance.
A full review of waste policy is currently underway and is due to report in spring 2011. This will consider AD, and other energy from waste technologies, as part of the Government's overall approach to moving towards a zero-waste economy. The development of a strategy for AD in the context of the waste hierarchy will feed in to work on the Waste Review.
Notes
To view the Developing an Anaerobic Digestion (AD) framework strategy document use the following link - archive.defra.gov.uk/environment/waste/ad/documents/anaerobic-digestion-framework-101130.pdf
The Framework document sets out the steps which the Government believes need to be taken to achieve that aim, building on much of the technical analysis looked at in the previous AD Implementation Plan published in March 2010.
To view the 'Accelerating the Uptake of Anaerobic Digestion in England: an Implementation Plan' document, published on 25 March 2010 use the following link - http://archive.defra.gov.uk/environment/waste/ad/implementation-plan.htm
Anaerobic Digestion meets a number of environmental objectives, such as: reducing greenhouse gas emissions; producing renewable energy for heat, power and transport fuel; recycling nutrients back to land; and reducing air and diffuse water pollution.
Published 1 December 2010