World news story
An update on the Priority Visa Service in Pakistan
During the busy summer months, there will be a slight change to the processing times of Priority Visa Service applications made to UK Visas and Immigration in Pakistan.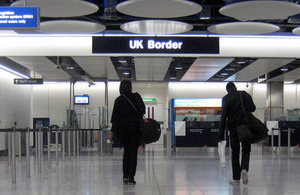 We will be aiming to process Priority Visa Service applications within 7-9 working days. We will continue to process our regular non-priority non-settlement applications at 90% within 15 working days. Applying for the Priority Visa Service means that your application will be processed ahead of all others at every stage of the process; it does not guarantee that your visa will be issued.
The fee for the service is PKR 8,760 (inclusive of taxes) in addition to the visa application fee. We will not refund either the visa application fee or the Priority Visa fee if your application is refused or takes longer than stated to process.
To be eligible for the priority visa service, you must:
be applying for a UK visit visa; and
not have an adverse immigration history - see below; and
apply online as normal, and when prompted, select priority Visas from the dropdown menu.
You will be asked to pay for the served when you arrive at the visa application centre;
If you have an adverse immigration history, then we will not treat your application as a priority visa. We will still process it within our service standards for processing UK visa applications.
Examples of an adverse immigration history are if you have:
previously been refused a visa for the UK;
previously been refused permission to enter the UK;
previously been deported, removed, or otherwise required to leave the UK;
overstayed a period of leave in the UK;
been refused permission to stay (known as 'leave to remain') in the UK by the Home Office;
been refused a visa for Australia, Canada, New Zealand, the USA or the Schengen countries; and/or
been convicted of a criminal offence in any country.
Published 3 July 2013