News story
An easier way for you to tell us about your non-domestic property
Our new online form ensures you only fill in what you need to, and lets you save your progress.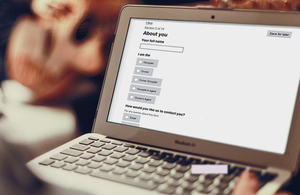 We're introducing a quicker and easier way for people who own or rent a non-domestic property to provide us with details about it online - the Rent and lease details form.
If this applies to you, we will send you an invitation to use the new form (along with your log-in details) when we need information from you. You don't need to do anything unless you receive this invitation from us.
This form has been designed using feedback from landlords and businesses, and lets you give us the information that we need as quickly and easily as possible.
The main features of the new online form are:
it ensures that you provide all the information we need, so we don't have to contact you for more details
it lets you save your progress as you go, so you don't have to fill the form all at once and you can come back later
it keeps your information secure and is accredited by HMRC's security assurance process
The new Rent and lease details form replaces our old electronic Form of return and the VO 6003 paper form.
Published 22 March 2016