World news story
Amber Rudd will visit India 22 to 23 September
Amber Rudd visits Delhi as India and UK's energy partnership powers ahead.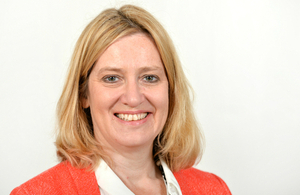 The United Kingdom's Secretary of State (Cabinet Minister) for Energy and Climate Change, Amber Rudd will visit New Delhi on 22 and 23 September to strengthen the UK and India's cooperation on energy and climate change, and prepare for the visit of Prime Minister Modi to the UK later this year.
The Secretary of State will meet Indian government ministers, British and Indian renewable energy companies, and deliver speeches on energy and climate change.
Secretary of State Amber Rudd said:
The Indian and British governments are both working to provide secure, affordable and sustainable energy for our citizens. Working together, we can achieve this in a way that is good for our economies and good for the environment. We now have the potential to go even further together, in particular concerning low carbon energy.
Rudd will meet Prakash Javadekar, Minister of Environment, Forests and Climate Change to discuss both countries' ambitions for a climate agreement later this year, and Jitendra Singh, Minister of State in the Prime Minister's Office (PMO) to discuss our economic ties and opportunities to strengthen these through Prime Minister Modi's upcoming visit. Rudd will also meet British and Indian businesses to discuss the length and breadth of commercial opportunities that exist in clean energy and low carbon technology.
For further information, please contact:
Stuart Adam, Head,
Press and Communications
British High Commission, Chanakyapuri
New Delhi 110021
Tel: 44192100; Fax: 24192411

Mail to: Kazim Rizvi
Follow us on Twitter, Facebook, Instagram, Flickr, Storify, Eventbrite, Blogs, Foursquare, Youtube, Vine, Periscope @UKinIndia, Snapchat @UKinIndia
Published 21 September 2015