World news story
Ambassadors with joint position on the CVM in Bulgaria
This was published under the 2010 to 2015 Conservative and Liberal Democrat coalition government
EU Ambassadors encourage the improvement of governance of the judicial power in Bulgaria.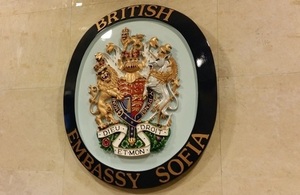 On 17 February 2015, Ambassadors of a series of Sofia-based embassies issued a joint statement. The statement reads:
As a group of like-minded EU member states, we have been following closely the progress Bulgaria makes to achieve the benchmarks set out in the CVM.

As mentioned in our letter of December 2014, we view our active support of Bulgarian reform efforts as an intrinsic element of our partnership within the EU.

In the wake of the CVM report of January 2015, we would like to again highlight the political consensus demonstrated by the Bulgarian parliament in approving the updated judicial reform strategy.

It is our anticipation that this consensus will now translate into concrete legislative steps to ensure the implementation of the strategy, especially with regard to the structure and functioning of the Supreme Judicial Council (SJC) and with regard to intensifying the fight against corruption at the highest level.

Improving the governance of the judicial power is a matter of urgency. The SJC itself can demonstrate reform ownership by focusing on effective solution of problems related to the allocation of cases, to integrity failures and to undue, political or other, influence on magistrates.

The intentions to reorganize the prosecution are welcome and have to be implemented. The start of the reorganization of the security sector and the commitments to avoid an operational gap in this respect are a positive sign. We expect that these will soon bring about visible and concrete results by proceeding with new and pending cases leading to final conclusions and convictions.

Specific actions from the relevant institutions are needed in high level cases, e.g. the KTB case. A quality leap in fighting corruption is crucial. A new strong and effective institutional framework is needed. Any new framework must comprise elements of substantial and result-oriented integrity checks and sufficiently autonomous investigative and prosecutorial capacity.

The implementation of the judicial reform is a national priority, recognised by Bulgarian politicians, legal professionals and civil society stakeholders.

Examples of other countries in the region show that real and sustainable change is possible.

We feel as partners and friends that we must share our expectation that - given the reformist ambitions of the current government - Bulgaria makes substantial progress by the summer of 2015.
Ambassador of France: Xavier Lapeyre-de-Cabanes
Ambassador of the Netherlands: Tom van Oorschot
Anbassador of Belgium: Anick van Calster
Ambassador of Austria: Roland Hauser
Ambassador of Denmark: Christiaan Konigsfeldt
Ambassador of Finland: Harri Salmi
Chargé d'Affaires United Kingdom: Sarah Riley
Document information
Published: 18 February 2015