Ambassador's regional visit to Poznań
British Ambassador to Poland Robin Barnett visited Poznań on 6-8 June.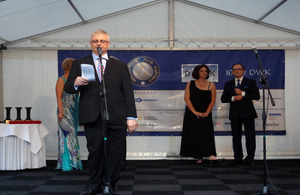 The aim of the visit was to discuss the present social and political situation in Poznań and the wider Wielkopolska region as well as to discuss opportunities for further British investment there.
Ambassador Robin Barnett raised those topics both with local authorities - Mayor Ryszard Grobelny, Wielkopolskie Voivode Piotr Florek and Marshal Marek Woźniak – as well as with MPs and Senators from the region. While in Poznań, the Ambassador also visited Raben and West Coast Energy companies where he discussed commercial diplomacy opportunities for the UK. The visit concluded with the Ambassador's participation and opening speech during a gala dinner on the occasion of the 20th Anniversary of the Wielkopolski Capital Club (WKK).
In his address, the Ambassador noted the many changes that have taken place in Poznań and the region since his first visit there in 1983. Poznań and the broader region represent a major economic opportunity. The Ambassador underscored Poznań's openness to business, competitiveness and new, innovative technologies. Ambassador Barnett also took the opportunity to say a few words on the GREAT Campaign – Emerging Europe is a priority market in the development of the campaign.
One of the aims of the GREAT Emerging Europe is to show UK companies what a splendid investment destination this part of Europe is. The Ambassador was inspired by the role which WKK plays and commented that it is an excellent platform to further encourage British investors to expand their already significant and prosperous presence in Wielkopolska.
Published 10 June 2013