Ambassadorial statement after meeting Zoran Zaev in Skopje
Joint Statement by ambassadors of France, Germany, Italy, UK, US and EU after meeting leader of Social Democrats Zoran Zaev.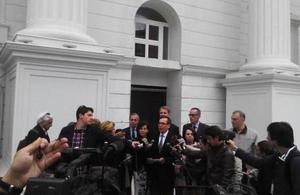 This statement was issued by the ambassadors following the meeting with the leader of Social Democratic Union of Macedonia Zoran Zaev.
Today, we came to see the President of the Social Democratic Union Zoran Zaev. Yesterday, we met with Prime Minster Nikola Gruevski and earlier today with Ali Ahmeti.
We have welcomed Mr Zaev's participation in the National Security Council's meeting on Sunday following the tragic events in Kumanovo.
We have made clear to Mr. Zaev that we expect responsible actions also from the opposition.
We understand the reservations that exist, and the need for the opposition to be vigilant about the degree to which it can play this crucial oversight role. But Parliament remains the key institution in which the opposition can take part in investigating the matter, so we encourage the opposition to return to Parliament.
We call on the opposition to help to resolve the political impasse. We support the right to peaceful public protest.
Connect with us on Facebook or follow us @ukinmacedonia
Connect with the British Ambassador on Facebook or @BritAmbCGarrett
Read our blog UK in Macedonia
Published 13 May 2015