World news story
Ambassador to Italy on "The Europe that London wants"
British Ambassador, Christopher Prentice, on the EU reform in the Italian weekly L'Espresso.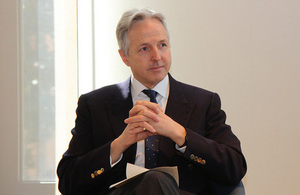 The UK is at the forefront in dealing with our shared challenges in Europe, whether that's tackling climate change, lowering burdens on SMEs or responding to the migration crisis, where Britain has deployed naval assets to support Italian leadership in the Mediterranean and provided significant humanitarian aid - over £1bn to tackle the Syrian crisis alone.
However, Europe is not working as it should. Democratic support for Europe is falling, not just in the UK. That's why Prime Minister Cameron has pledged to deliver real reform of the EU which addresses the concerns of the British people and then give them a say on Britain's membership of the EU. Prime Minister Cameron is focused on success. He believes he can and will succeed in reforming and renegotiating our relationship with the EU and campaigning to keep the UK in the EU on that basis.
To deliver that change, we want and have to work with our European partners because we believe much of what we want to achieve will not only be positive for the UK but for all member states, including Italy.
This is why we deeply appreciate Prime Minister Renzi's expression of support with regards to the role that the UK plays in Europe and our common understanding that Europe needs to change.
In this perspective, we are committed to taking forward a concrete dialogue on important reforms in four broad areas: competitiveness, economic governance, sovereignty and migration.
First of all, we want to "turbocharge" the single market, reduce burdens on European firms, and agree ambitious trade deals at European level, in particular with the US and Japan. Our goal is to help Europe grow faster and create more jobs. We must remove existing barriers so that European businesses can sell their services across the continent; we must connect our energy markets, support the most dynamic start-ups in the digital sector, provide SMEs with easier access to credit and make it simpler for citizens to buy online.
The second area is economic governance. Further eurozone integration is inevitable and essential. It may surprise some but the UK shares this common interest. We all suffer if the euro struggles. But we need to ensure that the rights of those countries who are not in the eurozone are protected (for example in the single market) as Italy and the eurozone integrate further.
The third area is sovereignty. A commitment to "Ever Closer Union" is right for some EU members (for example in the eurozone) but not for the UK. So we are seeking recognition of this and to secure a Europe with the flexibility of a network, not the rigidity of a single bloc.
Last but not least, migration. Every country should be able to take decisions on access to their welfare systems, in order to reduce some of the pull factors that have led to mass migration within Europe, in particular towards the UK, over the last decade while, and I would like to stress that, respecting the principle of free movement.
Our Foreign Ministers discussed these issues in London last week and agreed that the extensive common ground which we share on this agenda for change was an excellent basis for close bilateral collaboration within the EU.
Published 24 September 2015