World news story
Ambassador Scott Wightman calls on Korean Deputy Prime Minister
British Ambassador Scott Wightman had a meeting with Korean Deputy Prime Minister to exchange their views for strong bilateral relationship.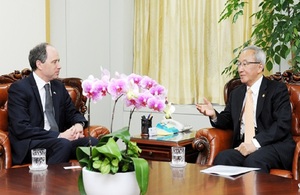 British Ambassador Scott Wightman and Korea's Deputy Prime Minister Hyun Oh-Seok met on 25 April. During the meeting, they discussed the EU-Korea FTA and the contribution it is making to bilateral trade. They also agreed to strengthen bilateral collaboration in services and investment.
DPM Hyun stressed the importance of strengthening the UK-Korea cooperation ahead of the next G20 Summit.
He explained the supplementary budget and real estate market stimulus measures were recognised as supportive for the global economic recovery in G20 Finance Minister's Meeting.
Published 25 April 2013