World news story
Ambassador John Kittmer introduces the role of the embassy and consulates in Greece.
In a short video introduction to the embassy's webpage, the Ambassador describes who we are, what we do and how we further bilateral relations.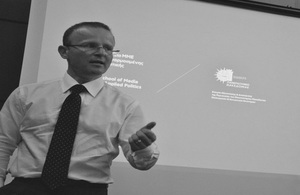 We often get asked what an embassy or a consulate actually does, and not many people get to see more than a part of what we do. From services to British Nationals travelling to or living in Greece, to helping business and prosperity in both the UK and Greece, to enhancing cooperation on major international challenges, the British Embassy and consulates around Greece engage actively with the government, authorities, business and communities to build on the historically close ties between the two peoples.
Ambassador Kittmer gives a short introduction to the rich, demanding and fascinating work we are proud to do.
Published 15 January 2016