World news story
Ambassador John Casson visits Alexandria to discuss follow up to the Sharm investment conference with Governor Hany El-Messiry.
This was published under the 2010 to 2015 Conservative and Liberal Democrat coalition government
Ambassador John Casson: "Britain supports stability and prosperity in Egypt"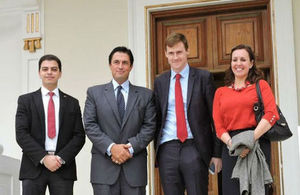 British Ambassador John Casson met Governor Hany El-Messiry in Alexandria on 23 March. A week after UK companies announced more than $16 Billion of British investment at the Sharm El-Sheikh Economic Conference, the meeting focused on the political work needed to turn investment into new jobs and infrastructure in governorates such as Alexandria and the importance of moving from plans to real results on the ground.
Speaking after the meeting, Casson said:
"Britain supports stability and prosperity in Egypt by supporting both sides of the coin: major new investments and effective, accountable government focused on real results. Britain is proud to be Egypt's number one investor, bringing $24bn and tens of thousands of jobs since 2011. But we also want to work with committed and effective government leaders like Governor el-Messiry to turn this investment into new jobs, new infrastructure and transformed cities. Democratic Government is not just elections and parliaments, but ministries, agencies and Governorates like this one, that respond to the concerns and priorities of citizens and deliver results."
In Alexandria, Casson also met Ambassador Hatem Atallah, formerly the Tunisian Ambassador to the UK and the new director of the Anna Lindh Foundation, an intergovernmental institution which includes both Egypt and the UK. The Ambassadors reviewed the successful UK- funded "Young Arab Voices" programme which has strengthened the ability of civil society and citizens to work alongside Governments to tackle the most difficult issues in the region and the world. Casson condemned the ISIL terrorist attack on the Bardo Museum in Tunis on 18 March. He said ISIL offered the world nothing except vandalism, killing and cruelty. The only question was not if they would be defeated but only when.
Casson also met Dr Ismail Serageldin, Director of the Biblioteca Alexandrina. They agreed that terrorism requires not only a military response but marginalising and undermining the dead-end ideology of violent extremism that feeds it. Casson praised the Biblioteca as a world class institution that was leading the way in sharing knowledge and understanding as vital weapons against extremism.