World news story
Ambassador Jamie Bowden Op-ed
HMA and the FA, the oldest football association in the World, congratulate Oman on the launch of its professional football league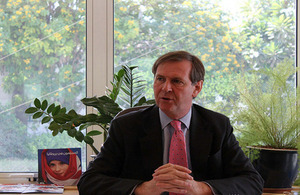 I warmly congratulate Oman on the launch of the new Omantel Professional Football League and am delighted also to convey the following message from the English Football Association. "The Football Association congratulates the Oman Football Association upon the launch of Oman's first fully professional football league. The professionalization of football is an important step in the development of the game, and paves the way for an exciting future for the sport. We are aware of the time and energy that the Omani football authorities have invested in taking this step, and we are sure that it will bear fruit for clubs, players and the game as a whole".
I wish the league the very best and look forward to seeing it blossom over the coming years and giving inspiration to Oman's many football players and fans. Our own leagues in the UK have long been a source of inspiration for children and adults alike in the UK and around the world. Heroes like David Beckham and Oman's own Ali Al Habsi, encourage people into healthy activity and social interaction through sport. We wanted this contribution that sport offers to society to be the legacy of the London Olympic Games for young people in the UK and around the world. Our slogan for those games was thus 'inspire a generation'. One year on a great deal of work is underway in the UK to give young people the opportunity to fulfil their sporting potential. I have been struck in my two years here that Oman has the same understanding of the benefits that that sport can bring to society at large. The continued investment in sport in this country demonstrates, as many commentators have already pointed out, His Majesty the Sultan's care for his people.
As with so many aspects of the bilateral relationship between the UK and Oman the sporting friendship is flourishing. We were proud last year to be associated with UK company Kickworldwide's outreach programme in Oman. I was thrilled also to see the Omani national football team in the UK recently to play Reading FC and Crystal Palace – recently promoted to the English Premier League and I congratulate them on their victory over Reading. As the temperatures drop we look forward to seeing Oman's beautiful open spaces filled once more with people enjoying a game of football, perhaps aspiring to playing for their favourite Omantel Professional League club.
Published 12 September 2013