World news story
Ambassador James Thornton presents credentials to President Evo Morales
The new British Ambassador to Bolivia, James Thornton, presented his credentials to President Evo Morales on 21 January during a formal ceremony held at the Government Palace.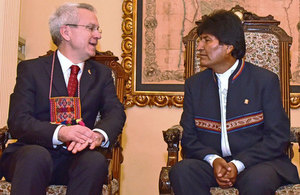 Ambassador Thornton conveyed greetings to the Head of State from Her Majesty Queen Elizabeth II, and expressed great interest in working with the government of Bolivia to strengthen their political and commercial ties with the United Kingdom.
After the ceremony, Mr James Thornton said he was delighted to return to Bolivia as British ambassador, having first visited the country in 1986 when he was struck by its beautiful scenery and friendly people.
Mr Thornton referred to the historical ties between the two countries, which date back to the support of several British citizens in Bolivia's war of independence, then the British key role in the construction of railways and, more recently, cooperation for development which is currently through the EU.
He said he was very impressed by Bolivia's progress in reducing extreme poverty and the significant economic growth achieved in recent years.
Therefore, it was now more relevant to support the country by promoting trade and investment, he asserted: "I want to see more trade between Britain and Bolivia. My priority is that British companies are aware of the great opportunities offered here".
Mr Thornton joined the FCO in 1989. He has had a broad range of jobs, in London and overseas, including Latin America. He served as Head of Political Section in the British Embassy in Mexico City. He was British High Commissioner in Lusaka until August 2015.
His Twitter account is @UKThornton and he will write a blog during his mission in Bolivia.
Published 28 January 2016