World news story
Ambassador in Szczecin
British Ambassador Robin Barnett visited the capital city of the Zachodniopomorskie region on 23-24 October.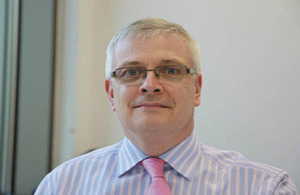 The main features of the visit were the Ambassador's speech at the Nobel's House to celebrate Winston Churchill's 60 years Nobel Prize Anniversary as well as the symbolic hoisting of the British banner on Trinity House Pilot Vessel Bembridge – a civilian ship which, for a time during WWII, was requisitioned by the British Government and pressed into Royal Navy service. She was part of the armada of small ships that took part in Operation DYNAMO – the evacuation of the British Expeditionary Force (BEF) from the beaches of Dunkirk in 1940. Purchased by a Polish company MAGEMAR, the ship has now been renovated and is moored in the port of Szczecin.
In his speech on Winston Churchill, ambassador Barnett noted the many achievements of Britain's former Prime Minister as a soldier, politician and writer. He also added that it was Churchill that had recognised most clearly the onset of the Cold War in his speech in Fulton Missouri in 1946, which included a direct reference to Szczecin.
Ambassador's speech on Churchill - in Polish
The visit was part of the Embassy's active programme to expand political and commercial contacts with Poland's sixteen regions. With its direct sea access and proximity to the German border, Szczecin and the region are akin to a bridge between Emerging and Developed Europe, offering a plethora of trade and investment opportunities. The ambassador therefore discussed British trade and investment engagement in Szczecin and the wider Zachodniopomorskie with local authorities and business circles. He also met with representatives of the border and maritime guards.
This was Robin Barnett's first ambassadorial visit to Szczecin and his return to the region after 13 years, when he had gone there as the then deputy head of mission to Poland.
Published 28 October 2013