World news story
Ambassador hosts mayors meeting in visit to Alicante
Simon Manley, the UK Ambassador to Spain, spent two days in the Alicante province this week during which he hosted a meeting with ten key mayors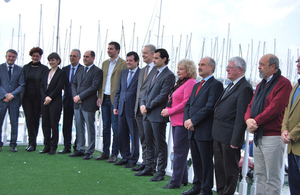 The mayors from ten town halls represent 50% of all British nationals registered in the Alicante consular district and 21% of all British nationals registered in Spain.
The mayors and the Ambassador agreed on the importance of British nationals registering on the Padrón and, if they did so by the deadline of 31 December for the next local elections, voting in the upcoming polls to make sure they have their say and their voices are heard.
Mr Manley and Alicante Consul, Sarah-Jane Morris, who was also present, encouraged the mayors to work closely with British residents, to encourage integration into Spanish society and to support the extensive charity sector in Alicante.
Mr Manley took advantage of his visit to meet representatives of some of those charities, and to discuss issues around tourist safety.
He and Mrs Morris also attended an event to thank and mark the farewell of Chris Sumter, president of Samaritans in Spain. Chris has worked tirelessly to provide an English language listening service in Spain to people who are going through a crisis in their lives and who need someone to talk to. The Ambassador also visited the SATE office in Benidorm and welcomed the mayor's efforts to enable Brits who go on holiday in the city to have a safe, trouble-free stay.
Before returning to Madrid, the Ambassador said:
I am impressed by the way local authorities and the voluntary sector support British nationals who visit and live in this area.
However, I hope that we can do still more to help the most vulnerable Britons here and to overcome issues like the language barrier. In the discussion with local mayors we made good progress, working with them to encourage engagement and integration.
It has been wonderful to see the work done by charities in the area, and I would encourage people to sign up and support their local charities, some of which are crying out for additional volunteers.
I've also seen some great examples of joint working such as the SATE office in Benidorm and the help that Samaritans in Spain and other voluntary organisations give to vulnerable British nationals.
I hope that our team in Alicante will continue to build on these successes to ensure that Britons get the support they need.
Published 12 February 2015