World news story
Ambassador highlights British tourist contribution to Valencia economy - estimated at €1.6 bn last year
This was published under the 2010 to 2015 Conservative and Liberal Democrat coalition government
Simon Manley raises property and healthcare issues with Valencia government.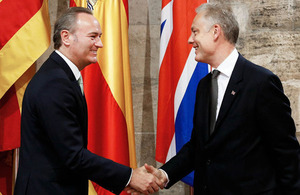 The British Ambassador, Simon Manley, visited Valencia this week to reinforce commercial ties with the region and underline the major economic contribution that British nationals make to the area.
An estimated 1.6 billion euros was spent in Valencia last year by the 2.2 million British tourists who visited the region. In addition, more than 100,000 British nationals are registered as residents on the padrón in the Valencia autonomous community, making further valuable contributions to the regional economy.
In meetings with leaders of the Valencian government, including President Alberto Fabra, the Ambassador raised the provision of healthcare for tourists and the importance of all public hospitals accepting the European Health Insurance Card (EHIC) including public hospitals that are privately managed, rather than trying to bill visitors' travel insurance.
He highlighted the plight of those who continued to be affected by property problems in areas such as Lliber and Catral, and urged the Valencia President and regional councillor for property and environmental issues, Isabel Bonig, to work towards solutions as soon as possible. Mr Manley said "As this was my first visit to Valencia, I was keen to emphasise the huge value that the British tourist and resident population has for this area. The fact that British tourists contributed 1.6 billion Euros to the Valencia economy in 2013 alone illustrates this. I am also committed to working with the Valencian government on the issues that affect British nationals the most and to ensure that help is provided when they need it."
The Ambassador urged that ties be strengthened with the British population to encourage integration. Given the language barrier faced by some in the British community, the Ambassador encouraged the Valencia president to include as much information as possible on official websites in English.
Mr Manley also met police chiefs and visited the 112 centre, which last year received 150,000 emergency calls in English, the majority of which were from Alicante province. Residents facing an emergency should call 112. They can also get updates on risks such as forest fires by following the Twitter account @gva_112cv.