World news story
Ambassador Frank Baker Attends Conference on Stateless
Ambassador Frank Baker and two members of the political team at the Embassy attended conference on stateless issues in Kuwait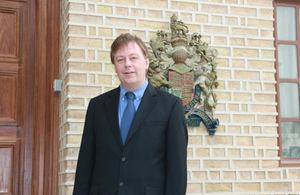 16 April saw Ambassador Frank Baker and two members of the political team at the Embassy attended Group 29's inaugural conference on stateless issues in Kuwait, entitled "situation and solution". The conference was attended by activists, community members, Kuwaiti politicians, Embassy representatives and many others. The keynote speech was given by a representative of the UN High Commissioner for Refugees.
The issue of the stateless community in Kuwait, known locally as the Bidoon, remains a controversial and difficult one. The government has set up a committee to try and resolve the issue but progress thus far has been slow.
The British Embassy fully supports the efforts of non-governmental organisations in Kuwait such as Group 29 to find a local solution to these problems, and as strong civil society voices advocating on human rights issues. Ambassador Baker said on his return from the Conference:
It's heartening to see civil society in Kuwait taking the lead on addressing issues that they are concerned about. This process is a key pillar of any democracy, and, as we've seen in the UK, the role of civil society in lobbying, advocacy and holding leaders to account can be a force for positive change.
I hope that through dialogue and engagement on all sides a just, equitable and sustainable solution to this problem can be reached. Doing so will bring benefits not just to the Bidoon community, but to Kuwaiti society as a whole, and to the profile and reputation of a country well known internationally for its indigenous democracy and level of respect for human rights. This conference could be the start of such a journey. I note also the bold and forward-looking stance taken by the representative of the UN High Commissioner for Refugees, who spoke eloquently about the UN's desire to support the Bidoon community's aspirations for justice.
Published 16 April 2013