Press release
Ambassador Fletcher hosts a charity fundraiser
British Ambassador Tom Fletcher hosted an open-house in aid for the Father Roberts School for the Deaf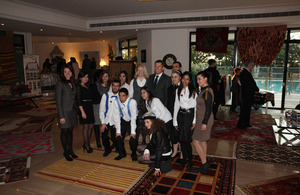 The British Ambassador in Lebanon Tom Fletcher and his wife Louise in collaboration with artist Nivine Maktabi, held a charity fundraiser open house at their residence in Yarze in aid of the Father Roberts School for the Deaf.
The event was attended by Embassy friends, partners and contacts across the social, political, academic, business and cultural spectrums.
This is one of a series of initiatives that the British Ambassador and his wife Louise will take forward in supporting the less privileged through humanitarian organisations and NGO's that are working to make the world a better place.
'Oumnia' by Nivine Maktabi, a well known Lebanese artist and designer, showcased handmade tribal and decorative carpets and kilims, bringing together traditional and modern styles and techniques. 30% of the sale revenues will be donated to the school.
The event was also attended by hearing impaired students from the school who danced to the songs of Fayrouz and the Beatles, reiterating that music is a universal language.
Father Roberts School for the Deaf was founded in 1983 by the late Father Roberts, who was an English priest serving as a chaplain with the British forces stationed in Lebanon during World War II. Today the school - run by nuns of the Basilians Chouerites Order - teaches over 100 students through trainers specialised in teaching the hearing-impaired, preparing them for social and vocational integration.
Published 22 April 2013